Sales Presentor – a sales presentation platform and management tool for your business
Centralised content management
Consistent message and layout
Automatic content updates
Usage monitoring and analytics
Sales Presentor
Sales Presentor gathers all the best sales and marketing material under a single app. The sales collateral is easy to find and use because of a well organised, customisable structure. All content is automatically updated and always up to date.
Reflecting your brand identity
Sales Presentor is fully customisable to reflect your brand identity.
Sales Presentor works in iOS, Android, Mac and PC environments, both on mobile and desktop.

Order to the chaos
No more searching for the latest powerpoints in the cloud or the company intranet! By managing presentation content centrally, new content is automatically updated to the users. This is a massive time saver, it also ensures that the quality of the presentations in circulation is always top notch.
Share presentation content to clients, leads and contacts.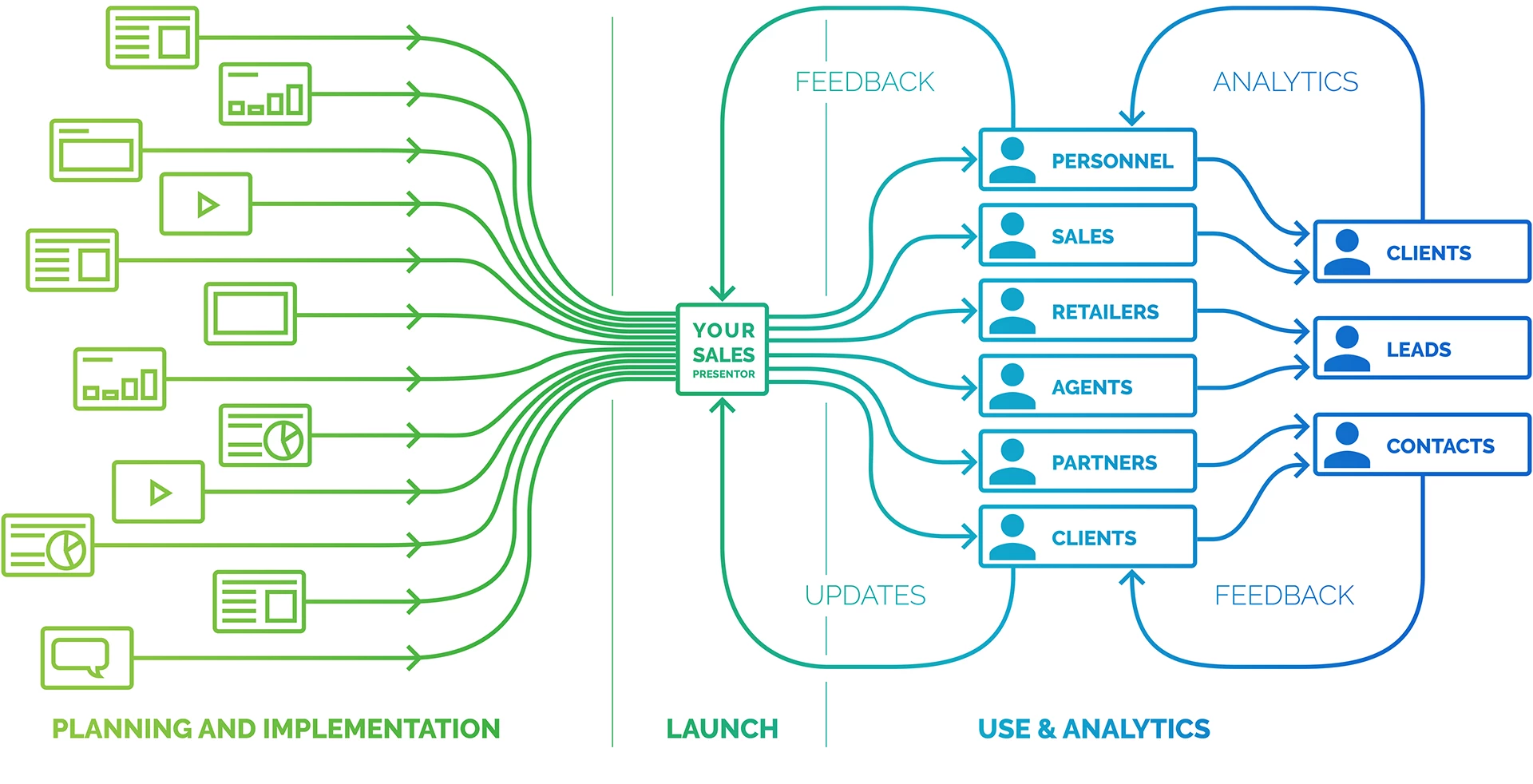 Make an impression.
It's easier to succeed with good sales presentations and proper presentation management tools.
User groups and analytics
Facilitate management with user groups. User groups can see targeted content, for example, a salesperson from the US might see a different product portfolio than their Finnish counterpart.
With analytics tools, you can track which presentations or videos are getting the most impressions and which are not getting the attention they deserve, and make decisions based on that information.
Best suited for:
Company has several salespeople
Presence in several countries
Partners, retailers, dealers
Presentation material, price lists, data sheets, drawings change frequently
Users often have old material in their disposal
Centrally managed presentations are not used in the field
Finding the newest material often takes time
Costs
The costs of the sales presentation tool consist of the implementation of the tool, the use of the tool, and the service contract.
Implementation
Designing the structure and content of the presentation material in cooperation with the client
Design and implementation of the sales presentation tool
Customising the visuals reflecting the client's brand identity
Publishing the presentation app to selected platforms
Use
12 e / user / mo*
No limit to the amount of content
No limit to the amount of devices
* No server fees included, client's own server can be used
* Minimum invoicing 10 users / mo.
Service contract
Flexible hourly rate or annual fee
At its lightest, regular meetings and updates of presentation material
Implementation
We will give you a quote for the implementation when we hear from you in more detail about the type and scope of the presentation package we are implementing. The implementation includes the design of the structure and content of the presentation material in cooperation with the customer, the implementation of the presentation tool, content uploads, brand-specific customisation and graphic design, and the launch of the presentation tool for the selected operating systems.
Use
The sales presentation tool is free to use for a monthly fee per user. We do not limit the amount of material that can be presented or anything else. User accounts are personal and users can install the presentation tool on all their devices.
Server fees not included. Content updates can be configured on the client's own server.
Service contract
We know that maintaining and updating presentation content is a challenge. The lack of time and resources often leads to delayed updates and missing content. Sales reps probably have more important things to do than searching for sales collateral or updating old presentations.
That's why we offer you a presentation service to provide you with the resources and assistance to keep your company presentations up to date and looking great. At its lightest, the presentation service is a scheduled review to monitor the use of your presentation material and implement content updates at regular intervals to Sales Presentor. At its broadest, we will be your end-to-end partner to handle all presentation-related issues, content updates, graphic design, analytics tracking, managing user feedback and suggesting further actions, giving you time to focus on more important things.
A service contract can be agreed either flexibly at our hourly rate with accurate hourly billing or as a budgeted annual fee.
Features
We make implementation easy
Fully customisable to suit your brand image
Customisable sales presentation tool name
Can be downloaded from i.e. AppStore, Google Play
Works on iOS, Android, Mac, PC, mobile and desktop
Supports common file formats such as pdf, ppt, jpg, mp4
Supports www links
Videos and animations can be embedded in presentations
Share files or share links
Favorites menu with your own favorited presentations and videos
User management tools for admin users
Analytics
User groups with special content
Works both online and offline
Always with you on all devices
"We use the Bystronic Sales App by Presentor extensively and are very happy with it."
Michael Kron, Senior Vice President Market Division Northern Europe,
Sales Director EMEA, Bystronic Group
How can we help you?
Contact us.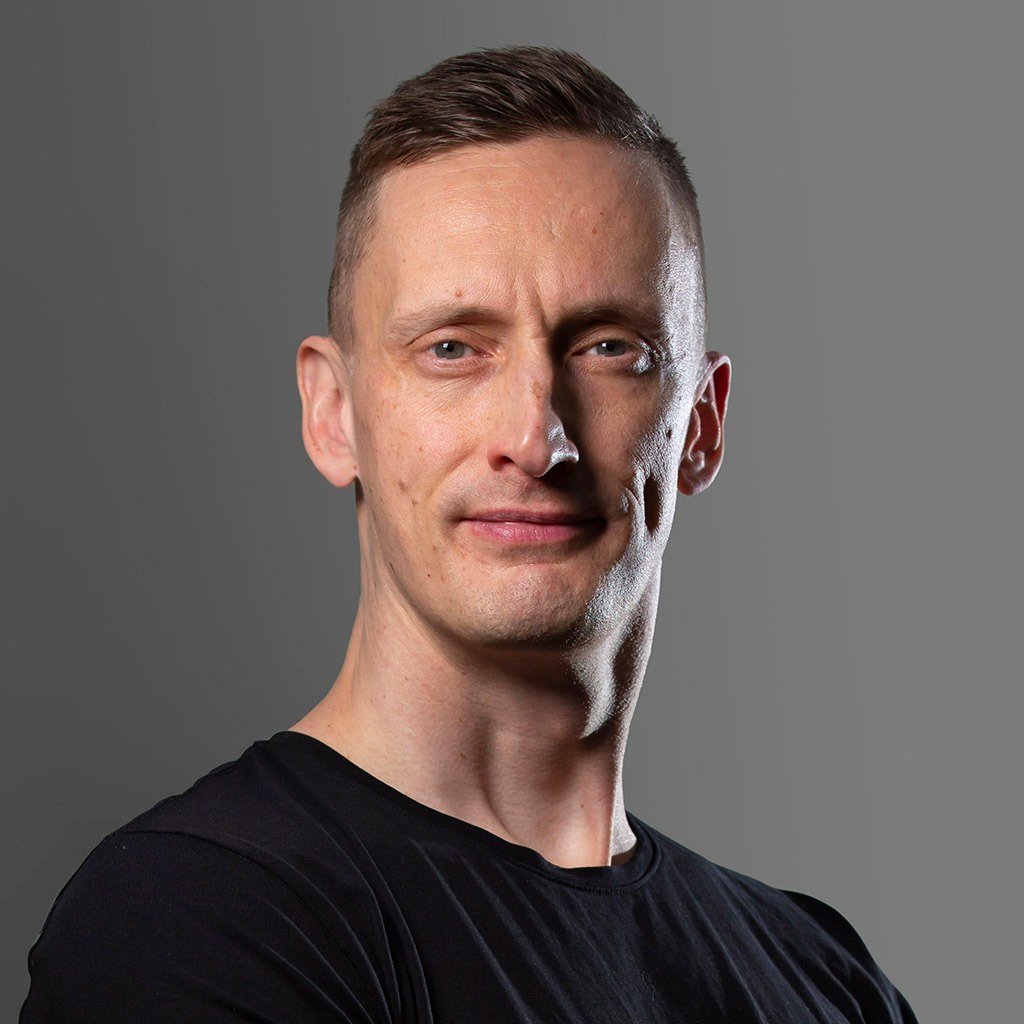 Teemu Talasmaa
Animation production, Sales Presentor
+358445018868
teemu@presentor.fi
With a background in animation and graphics, Teemu leads animation projects and the development of cutting-edge presentation tools, communicating with our clients and getting involved in pretty much everything. He likes to think that he's pretty good at making complicated matters easier to understand.
Liisa Torniainen
Graphic design, presentations
+358445018874
liisa@presentor.fi
Liisa is a graphic designer professional of over 20 years of experience in the industry. She's fast and efficient, delivering top quality work with ease and managing projects and leading teams in the meantime. She is the master of time management and schedules and due to her disciplined way of working, she never forgets a thing.
Contact form